Jetstar
Many sure have been hoping on to the special promotion by Jetstar and Tiger Airways'
for the Kuala Lumpur to Singapore route or vice versa.
Starting 1st February 2008, both Jetstar Asia and Tiger Airways will start plying both these Kuala Lumpur and Singapore route. In July 2007, it was reported by TheStar that three low cost carriers are throwing their interest to ply this ASEAN's most lucrative route are Air Asia, Singapore's Tiger Airways and Jetstar Asia.
Both the later airlines has already started marketing their promotions vigorously by
throwing their best fare possible to lure this high traffic route of Kuala Lumpur/Singapore.
Now, let's look at what Jetstar Asia has to offer when on 7th December 2007, they have
reported that rights are granted to mount Kuala Lumpur flights and their marketing:
Yes, I know.. their sale period over already.. on 8th Jan 08
Now, let's look at what Tiger Airways has to offer then. They are throwing a
SGD $0 fare promotion for this Kuala Lumpur to Singapore route..
Better than Jetstar has to offer!

SGD $0 wor.. O_O
Yes, their promo is still going on!! QUICK GRAB IT WHILE YOU CAN!
I do smell a fish here as both these airlines are limiting their promotional period to
around the same time and they are both flying from 1st Feb till 25th Oct 2008!
I do really think that both Jetstar Asia and Tiger Airways are joining hand-in hand to
give Air Asia a hard time for this KUL-SIN route. NO?
While I am pondering why these two foreign airlines has already started promoting their
shot on this ASEAN's most lucrative route while Air Asia is just…
just… err..
sitting behind at the comfort of their nice office desk at LCCT
and… ermmmm…
SMILLING AWAY !!
I am guessing that Air Asia is trying to come up with a best strategy to reply both
Jetstar Asia and Tiger Airways. What strategy would you guys think Air Asia will do?
Do I smell a one month FREE SEAT promo? o_O
Come on Air Asia..
You can do better than our neighbour.. It's time to show who RULES THE GAME!!
or shall I be despair that Air Asia have to bow to them???
But, one month FREE SEAT promo would do us all Malaysian proud !!

For those in the nutshell, Jetstar is considered Australian low cost carrier similar as Air
Asia to Malaysia. Jetstar is wholly owned by Qantas Airlines and half (51%) of the stake
in the company is being held by Singaporeans.
Today 24th July 2007, Jetstar made a statement on the availability of special
promotional web fare starting 12:00 hours 24th July till 22:00 hours 25th July 2007.
The promotional fare is starting as low as RM 88! Seriously read me RM88!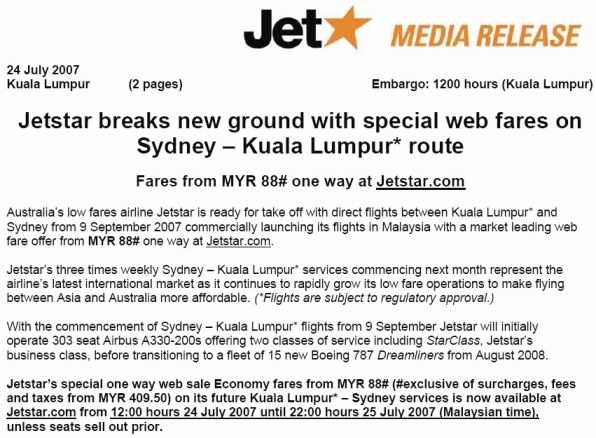 I was never shocked but I knew it would come. Come on, if AirAsia can throw free seatings, what is Jetstar pricing them at RM 88? I straight away went to their website
and check it out. Previously before this statement was out, I did made my check, but the price of RM 88 never appear everytime I do my search. But this time, the lowest I could get is RM 488 per way.
I've done a search for October, and this is what I've got. From 16th till 30th October.
Its only like RM 1796.27 for return ticket PLUS tax! WOW.. I'm like WOW… O_O
Pretty impressive huh. Look let's compare.
An airfare for flight on Malaysian Airlines would cost RM 2160
An airfare for flight on Qantas Airlines would cost RM 1875
And these are just airfares only.. Not inclusive tax. Tax is about RM 800 +/-
So flying with Jetstar means, we are saving about RM 1,000! Kewl!
What else!?? I CAN RESERVE SEATS!
But they have a clause that, they might not guarantee you the seats you book.
Who cares? I can reserve my seats at no extra cost. Not like AirAsia.. gah.
Jetstar will be flying with Airbus 330-200s. A 303 seater flight. I like Airbus

I was thinking, "Oh No Man.. about like 8 hours of flight with no food and entertainment!
But then.. look what I found?I can fly just like any other airlines, with food, entertainments, drinks but no alcohol


Nevermind the alcohol, but FOOD, ENTERTAINMENT on demand summore, and DRINKS, these are all I need for a long haul flight. I don't want to be zombie man..
All these in doesn't even cost me a bomb.. LOOK.
RM 290 for all the fun I need and I still save! For the meals, you will be served
twice per sector of the international flight plus coffee and tea.
What more is that, you can take back the blanket, pillow and amenity kit.
For the entertainment, you will have on-demand video. Start, pause, rewind and
fast forward all you like and also, laugh at your neighbour who don't have that in
his package!

Quick grab your seats while stocks seats last. Go and make your booking now