admin
This user hasn't shared any biographical information
Posts by admin
Today is 20/07/2007. So says the top
Today is a special day. Why? Because its 2007 x 2.
So why is 2007 x 2 so special? Because i think it is..
Anyways… after like listening to Sharon about Tarot Card reading,
and how the readings were so like ermm 50-80% true with our life.
I decided to get one reading too

and this is my result!
I wouldn't say its totally 100% true but then.. mostly.. See what it says..
hmmm…
You are The Emperor
Stability, power, protection, realization; a great person.
The Emperor is the great authority figure of the Tarot, so it represents
fathers, father-figures and employers. There is a lot of aggression and violence
too.
The Emperor naturally follows the Empress. Like an infant, he is filled with enthuiasm, energy, aggression. He is direct, guileless and all too often irresistible. Unfortunately, like a baby he can also be a tyrant. Impatient, demanding, controlling. In the best of circumstances, he signifies the leader that everyone wants to follow, sitting on a throne that indicates the solid foundation of an Empire he created, loves and rules with intelligence and enthusiasm. But that throne can also be a trap, a responsibility that has the Emperor feeling restless, bored and discontent.
What Tarot Card are You?
Take the Test to Find Out.
Stability, power, protection, realization; a great person.
My believes "POWER = Money/Contacts/Intellect"

There is a lot of aggression and violence too.
Not so true

I'm very nice and gentle person

For the last part. I would say, 90% true. I like to take responsibility.
But being a responsible person, i sometimes get into trouble.
Not sometimes, but rather many times..
I wanna go for a Tarot Card reading..I mean live wan.
Recommend any?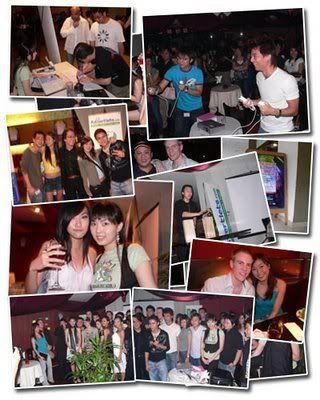 I ain't got any photos.. but i've got videos of David performing.

David's first performance. David first break a bottle into half, and leaves
the remainder bottom half of the bottle in one of the hidden brown bag.
He chooses random people to guess which one does not have the bottle.
Watch it.. it's just kewl..!!
Watch David performing the mind reading act. See how Brian scratches
his head after David predicted correctly the word. Hahaha…
*psst* Maison tonight.. anyone??
by who?
SECURITY GUARDS!!
This is a serious case!
There is an open letter to the management on this.
______________________________________________________
Attn: Ms.Vasanthy Govindasamy/Dr.Jayles Yeoh/ Tuan Haji Kamaruddin
International Services
Limkokwing University of Creative Technology.
Dear Sir/Miss,
ASSAULT OF STUDENT IN THE PREMISE OF LIMKOKWING UNIVERSITY STUDENT ACCOMMODATION, DESARIA VILLA
I would like to bring your attention to the incident that took place in Desaria Villa condominiums on the 11th of July 2007. At 10.45 am, my friend Shariff Zayeem–an international student from Bangladesh–was assaulted in the Desaria Plaza area by 6-10 security guards.
The armed assault was initiated when my friend Shariff Zayeem attempted to bring a friend of his into the apartment without a visitor's pass. The door guard confronted my friend as he walked in along with three other friends of his (two of which live in Desaria). Zayeem agreed to sign the necessary visitor documents.
While signing, Zayeem overheard the security guards speaking of him vulgarly in their own language. Aggravated, he confronted them on this. A verbal exchange took place for a short period before 5-6 guards charged at my friend with batons in their hands and continued to aggressively attack him. Two of his other friends were also attacked by a few guards.
This is my nephew.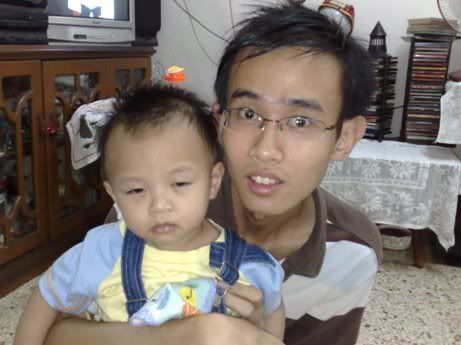 His name is "eye vern"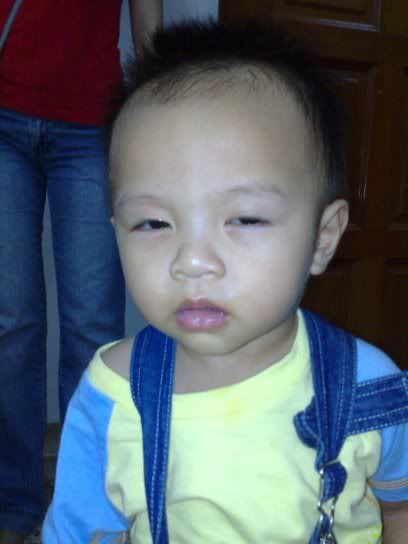 He is very active and hyper, and like to play around..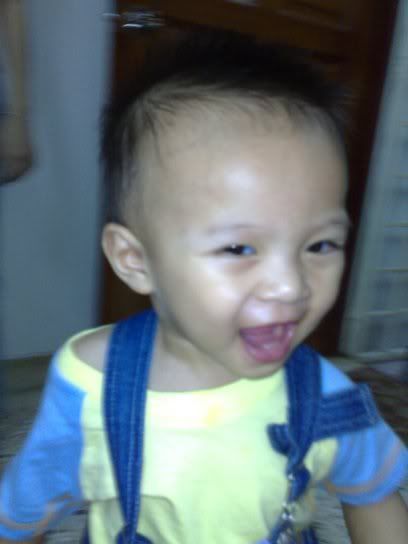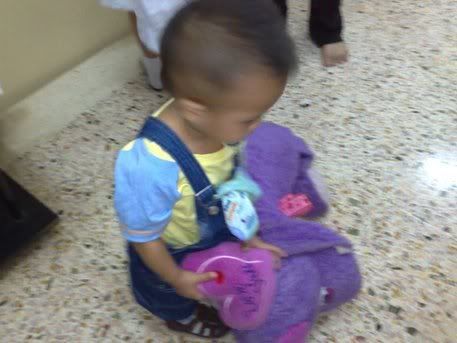 Food-holic he is..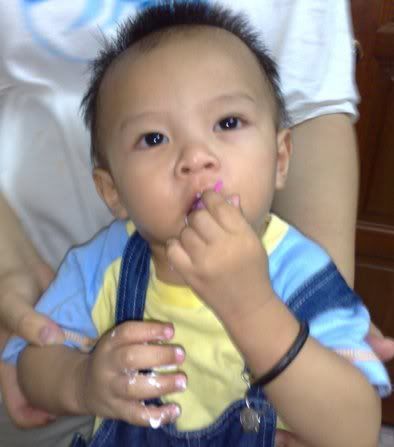 Last Saturday, a party was held and many were invited..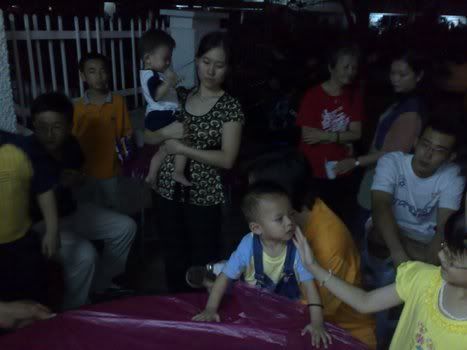 A happy happy day for I-vern

Happy 1st Birthday!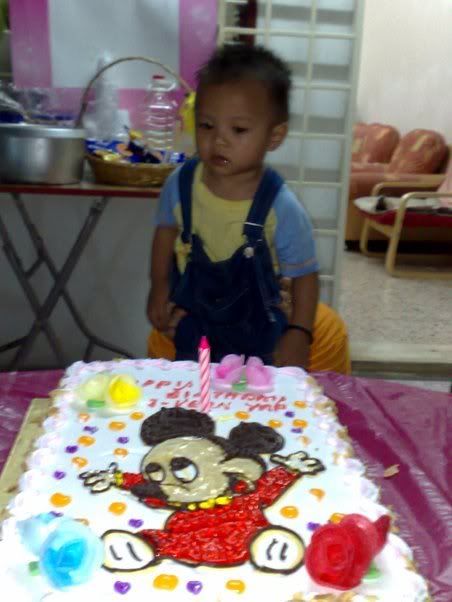 Oh.. meet my cousin's baby, my nephew Samuel.
He says "Gong-Xi Gong Xi". Is it Chinese New Year yet?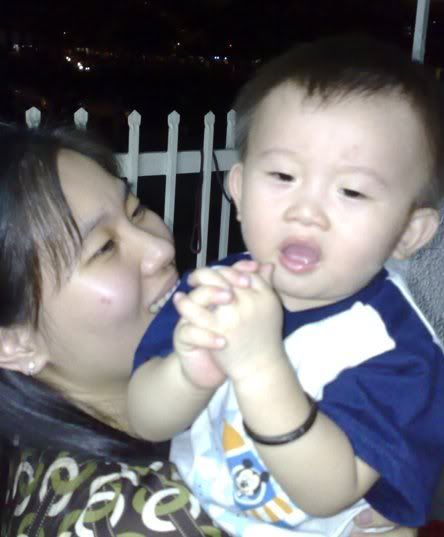 VIDEO!!
*gah! it took me at least 30 mins just to upload one video!*
Nathaniel Tan has been arrested for no reason and without a proper
code of arrest by 3 plain cloth policemen. It is so unethical in their
way of approach.
I am blogging this to reach the attention of many of you out there
to take this matter seriously. Because you and I could be next.
I've faced the police before, because I was supposedly thought of
having drugs in my apartment, and boy, I know how unethical they are!
Jeff Ooi reported on Screenshots the arrest by these UFOs.
Polytikus roars over this matters.
John Lee is saddened by his boss' arrest.
bangkit.net is running the news feeds as well.
You can follow the updated news on Nat's arrest and whereabout here
at jelas.info
WHO IS NAT? Well, this detailed info would let you know how great
is Nat to the country and the world.
What can you do? SIGN THE PETITION. Spread this news to everyone!
huh? why am i talking about virus..
yes, there are a few virus symptoms in me has been evolving…
i've been sick for like one week now.. NON-STOP…
It was first with a fever, then flu and cough.. and now
SORE THROAT
You see, this is what happens when you don't follow a proper routine
of taking your medication. Your virus will mix with whatever new
virus and attacks your body continuously. Unless your body got a very
strong anti-body, then you heal fast. Else, TAKE YOUR MEDICINE!.
Today, I'm on Medical Leave again. I just need the rest.
I wanna rest for the weekend.. haha Blogger's Days and Youth Carnival.
And also Michelle's bday..

Another virus? is myself.. a virus that has been in me but cannot evolve.
I can't make it evolves because it will make it worst, and it is just
a natural virus. Else, I will BURST. *kaboom*
Oh wells.. i'm now craving for porridge and bah kut teh.
Really must go down to Klang and meet up with the guys for BKT.
It has been ages since i takda makan BKT.
And my little nephew I-vern sudah 1 tahun! WOOT!!




Oh wells.. I wanna go find food now..
Bye people…
*am feeling hopeless*
I am speechless..
I'm dumbfounded..
Sigh…
These two invitational fliers is self-explanory.. Please do go for this
event and give your support for both Youth for Change and
KL Chinese Assembly Hall.
And if you haven't register as voter yet.. please do go and register.
Its your duty to vote for which "monkey" to run this country.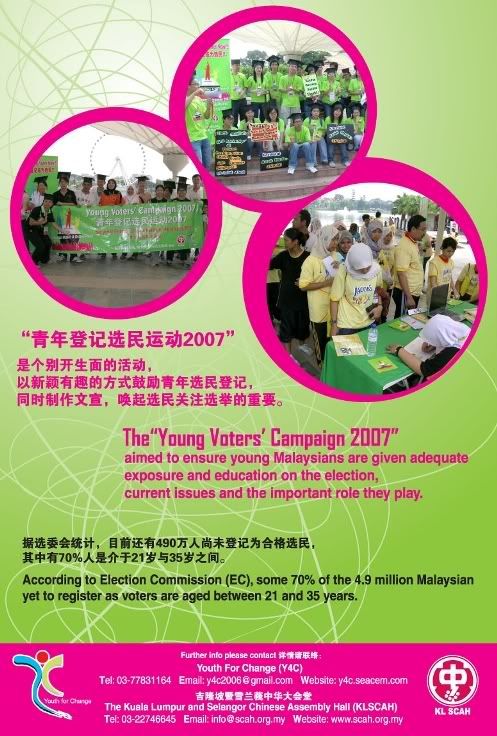 Come this day, a day that you will want to meet some hot people..
Come this day, a day that you want to meet those personalities whom
you read on and known as bloggers..
Come this day, a day for all bloggers in Malaysia to claim it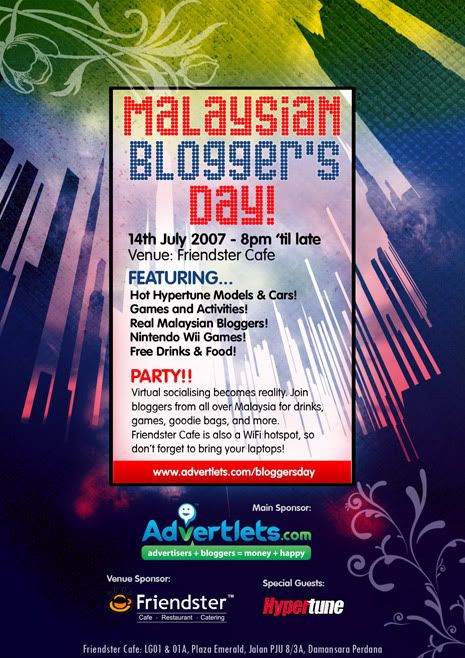 NO MORE THEME "H"
This event, initiated by Elaine Tan and then went on to be a big event.
HOW TO GET THERE? Here's how.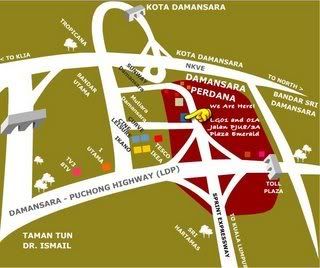 Click to enlarge
Come one come all!!
Nadia, Sin Yee don't say I never invite! After this event, we go Loft!
Lisan, wanna go?

Thursday, went to Maison. It was a hard day work and felt tired of not
going there. Was planned to go Mystique, but never. Cindy and GM who
were suppose to go there and changed location to Maison out of the reason
that Mystique was really quiet and not much crowd.
Went home and rest for a bit before making my decision to go out again.
Nadia was like bugging to go but looking at her condition, I rather not.
*seriously nadia, you really need that rest la. don't strain ur legs ler.."
So 11 plus, took a cab up to Maison, cost me like 12 bucks.
Was suppose to be a surprise when I told them I'm not really going.
Nat, Pooi Yee, Rue, Ben and others are there. So i was thinking go lah..
Pictures time!!

From start till end..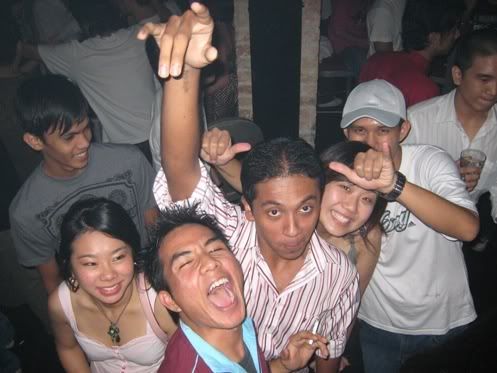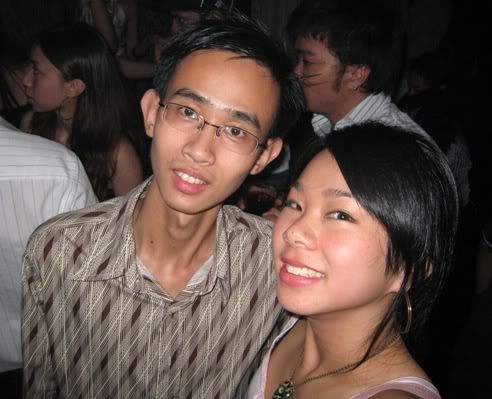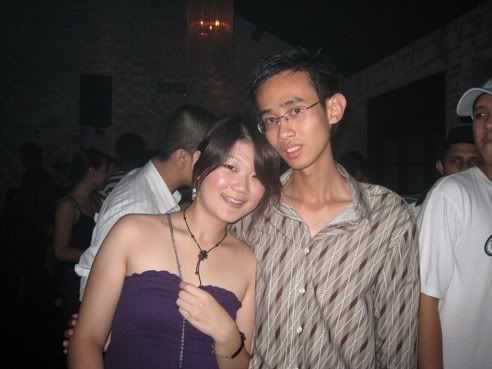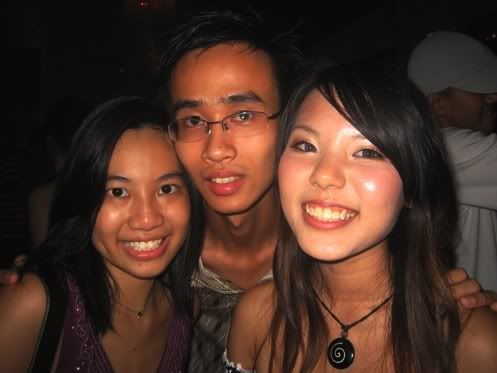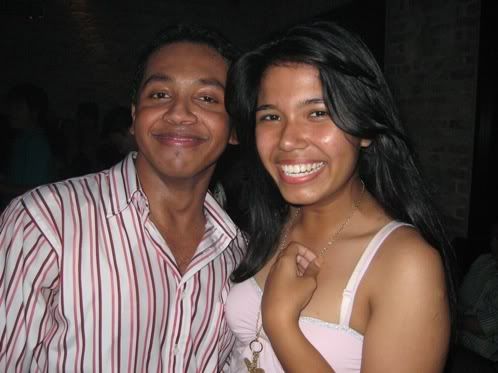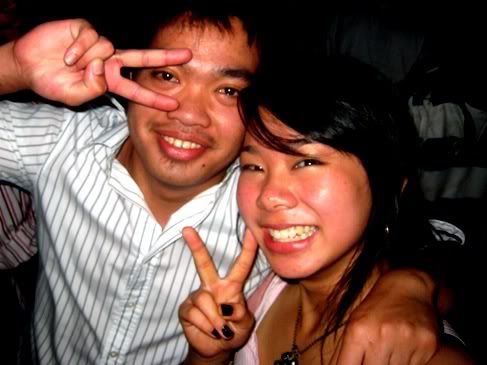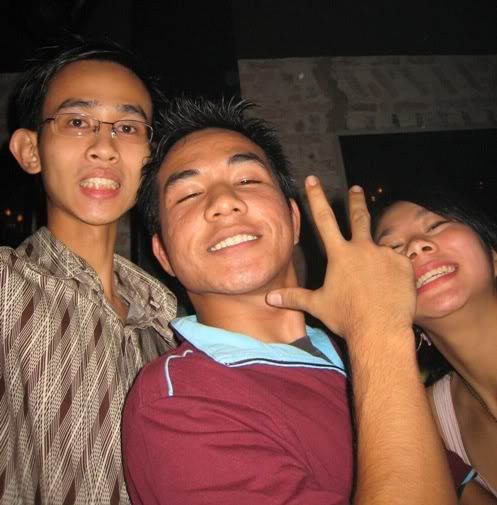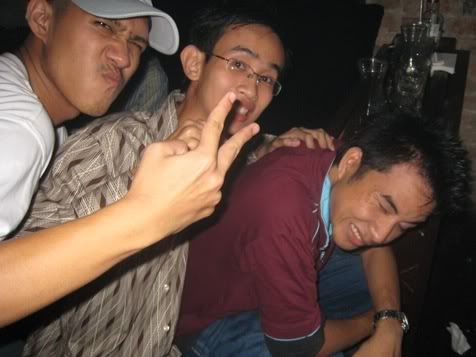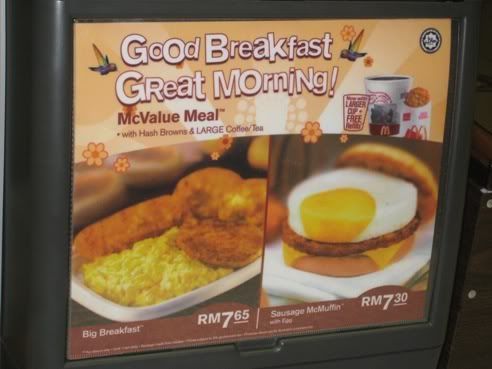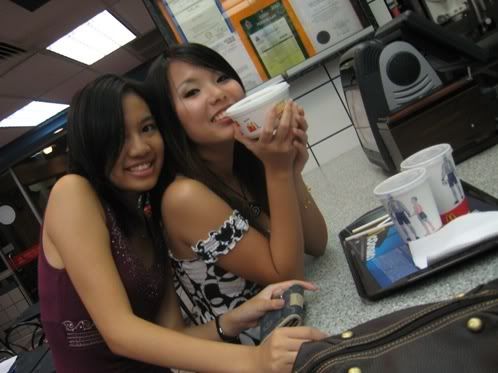 Okay byez..